APPC News
Friday, December 13th, 2013
Nearly three-quarters of the newspaper stories mentioning suicide and the holidays over the 2012-2013 holiday period perpetuated the myth that more people commit suicide during that season, according to an analysis by the Annenberg Public Policy Center.
Monday, December 9th, 2013
Nearly 90 percent of the top-grossing movies over a 25-year period show main characters acting violently, and in 77 percent of the movies those characters also engage in sex-, alcohol- or tobacco-related behavior, a new study has shown. The study published in Pediatrics, by researchers at the Annenberg Public Policy Center, found that more than half of the biggest PG-13 movies featured a main character acting violently and involved in either drinking, sexual behavior or smoking within a five-minute segment.
Monday, November 18th, 2013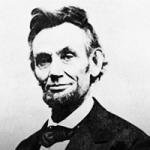 Could Lincoln be reelected today? What sort of attack ads might he encounter? What deceptive ads, false claims, and out-of-context quotations might the Illinois Republican face from the likes of Democratic nominee Gen. George B. McClellan and third-party Super PACs? Using a variety of political-campaign techniques, along with parody and humor, FlackCheck.org has reconceived the bruising 1864 campaign in a video timeline.
Read APPC News >